Dragonborn and Deities
by Hawke —
published

Apr 05, 2016 12:05 PM,
last modified

Apr 06, 2016 11:26 AM
Tweet from ImaWEEZARD: "Hey there quick question! does a dragonborn paladin have to only warship Bahamut or tiamat? Or can they have a different god?"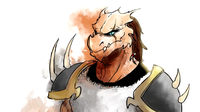 Picture of Dragonborn from The Spartan Show's "Adventurer's Guild" DM: Hawke Robinson"
Good question!
Short version: Definitely! (depending on your DM).
1. Any DM can rule about deities in their setting any time they want of course. :-)
2. p. 33 PH: "Dragonborn owe their devotion and respect to their clan above all else, even the gods."
3. Choosing a deity closer to the Dragonborn's class or other background philosophies or alignment are totally appropriate as well.
If you were a player in my group, I would definitely allow other deities, but would want it explained in your back story. Why are you "such a rebel" from your kind that you chose a different deity than usual social norms would warrant? Is your entire clan this way, or are you an anomaly in your clan?
What do others think?
-Hawke
Picture of Dragonborn from The Spartan Show's "Adventurer's Guild" DM: Hawke Robinson": http://www.spokanerpg.com/adventurers-guild