JourneyQuest 3 (JQ3) Kickstarter Swag Arrived!
by Hawke —
published

Jun 02, 2017 12:40 PM,
last modified

Jun 02, 2017 04:25 PM
Woohoo! The KS Swag for supporting the Kickstarter campaign, that made Season 3 of JourneyQuest possible, arrived today! Photos included...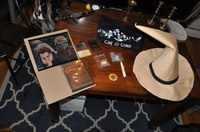 Hawke's JourneyQuest 3 Backer Swag
Zombie Orpheus Entertainment produces The Gamers, JourneyQuest, and many other series, which are fully fan-supported through Patreon & Kickstarter. Check all out their wonderful series at http://www.zombieorpheus.com!
I had the joy of being on set during some of the Tavern scenes, as a Bar patron, and today I received in the mail the fun swag, including:
Art Print of Wren and Rilk
Backer Patch
Bardic Immunity Badge
Cast & Crew T-Shirt
Orcish Word & Metal Card (Word: "Djaetolkienad", meaning: Philologist)
Perf Hat
Perf Miniature (a la would make a great running Rincewind for those running Discworld campaigns)
Metal Red Card
The entire 3rd season of JourneyQues, DVD, with exclusive Backer cover.